Sparkling Rugby
ORFC run a School Linked programme called Sparkling Rugby.
What Exactly Do We Do?
ORFC administers and delivers Sparkling Rugby coaching to primary schools as part of its community development responsibilities, working with teachers to promote physical education. This is offered to able-bodied and special needs children alike.
To involve your school please contact Roger Filbey on rogerfilbey@gmail.com
Sparkling Rugby is a Community initiative, supported and sponsored by Basingstoke and Deane Borough Council, and the Basingstoke Primary Schools Sports Association, as well as the RFU.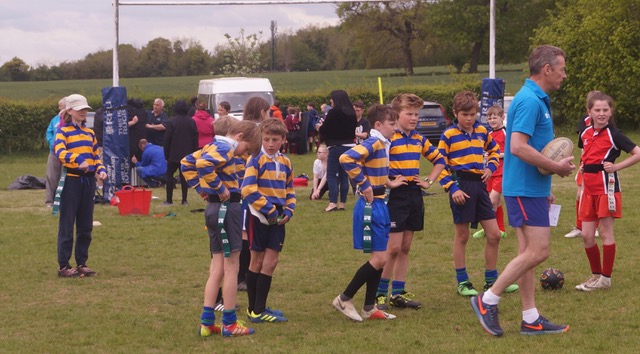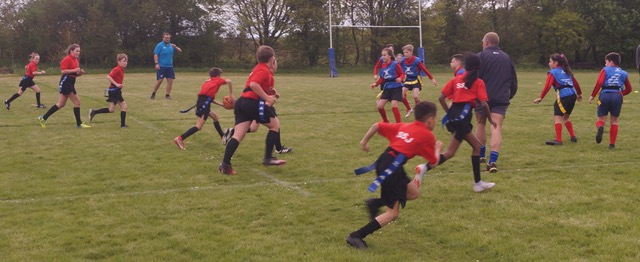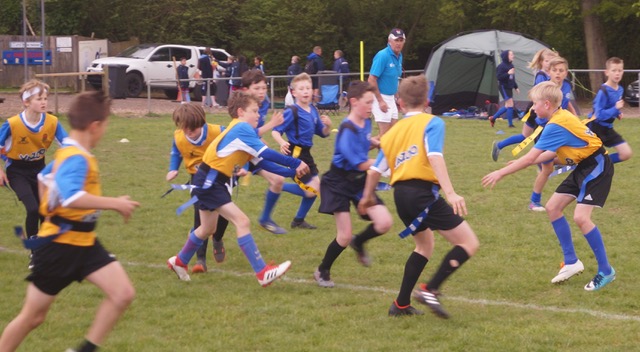 We deliver Tag Rugby coaching to primary school children in Key Stage 2, and special needs children– in curriculum time, adhering to the RFU coaching continuum. As well as developing the children's 'rugby skills', we also enable the teacher to carry on with the sport when our sessions have finished.
The aim is to encourage children to exercise and experience our sport, in a fun and safe environment.
Sparkling Rugby began more than 24 years ago as a Police community project, with Officers going into schools. Since 2008 ORFC have taken up the lead delivery role, with more than 90% of Basingstoke Primary schools at Key Stage 2 having experienced Tag Rugby coaching.
From 2012 schools started playing in a series of leagues. The year 2018-19 sees us with 8 leagues and 34 schools taking part over the year.
Three years ago, responding to the demand from a number of schools we launched a girl's festival. Now we run 2 events a year catering for both town and rural schools.
The "rugby year" ends with the annual festivals held at the club. These attract over 30 schools in both age groups (School year 3-4 and School year 5-6). All these festivals cannot happen without club members giving up time to referee and help run the events.
Details of upcoming events can be found on our home page within the calendar
2018/19 League Positions
| Team Name | Points | Position |
| --- | --- | --- |
| Longparish | 54 | 1st |
| RBarton Stacy | 46 | 2nd |
| St Mary Bourne | 18 | 3rd |
| Smannell | 17 | 4th |
| Team Name | Points | Position |
| --- | --- | --- |
| Hatch Warren | 50 | 1st |
| Cliddesden | 40 | 2nd |
| St Johns | 36 | 3rd |
| Chalkridge | 15 | 4th |
| Team Name | Points | Position |
| --- | --- | --- |
| Burghclere | 54 | 1st |
| Ashford Hill | 38 | 2nd |
| Kingsclere | 36 | 3rd |
| Ecchinswell | 16 | 4th |
| Team Name | Points | Position |
| --- | --- | --- |
| Kings Furlong | 48 | 1st |
| Kempshott | 44 | 2nd |
| Park View | 40 | 3rd |
| St Annes | 3 | 4th |
| Team Name | Points | Position |
| --- | --- | --- |
| Castle Hill | 58 | 1st |
| Great Binfields | 50 | 2nd |
| Winklebury | 32 | 3rd |
| South View | 24 | 4th |
| St Bedes | 10 | 5th |
| Team Name | Points | Position |
| --- | --- | --- |
| Sherbourne | 58 | 1st |
| Bramley | 44 | 2nd |
| Silchester | 38 | 3rd |
| Burnham Copse | 28 | 4th |
| Tadley | 6 | 5th |
| Team Name | Points | Position |
| --- | --- | --- |
| Oakley | 60 | 1st |
| Overton | 36 | 2nd |
| Whitchurch | 28 | 3rd |
| North Waltham | 20 | 4th |
| Team Name | Points | Position |
| --- | --- | --- |
| Hurstbourne Tarrant | 26 | 1st |
| St Martins | 16 | 2nd |
| Wooton Hill | 12 | 3rd |